Life desires magic and taste desires ... chutney!
CARAMELIZED ONIONS AND BALSAMIC VINEGAR CHATNEY
It combines perfectly with dark meats, burgers, liver, hot-dogs, fava (yellow split pea puree), salads, and spicy cheese.
Try it as a base in onion tarts, with kebab, roasted sausages and wherever you desire
STRAWBERRY CHUTNEY WITH 3 PEPPERS AND BALSAMIC VINEGAR
Captivating aroma and explosive flavor. The strawberry aroma alternates with the pepper aroma while the balsamic vinegar provides a unique intensity.
It is a perfect accompaniment for parmesan or cream cheese. Try it on brioche, crackers, in salads, with roasted meat and warm creamy cheese such as chèvre, manouri cheese, goat cheese, camembert or brie. It's a true tasting experience!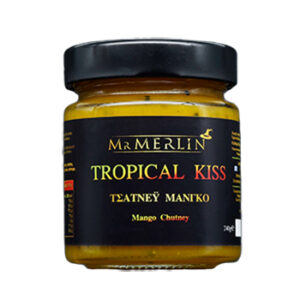 The flavor is really unlike anything you've tasted before. It's fantastic!
Ginger, garlic and red chilies are sauteed in oil and spices are added to coax out their robust flavors.Fresh mango, sugar and vinegar is added and it is slowly cooked down to a sticky and delicious concoction.
Serve with meat, such as chicken, lamb, pork and shrimp. Ideal with roast chicken. You can also use chutney thinned with water, to glaze chicken or duck.
Serve with cheese, like brie or cream cheese. Spread in sandwiches.
TOMATO CHUTNEY WITH PINEAPPLES AND GINGER
Exotic sweet and sour taste. Balanced taste of pineapple, tomato, ginger and spices.
Ideal for cheese platters, pizza, pasta, eggs, sausages or any grilled meat, sandwiches and paninis, baked and french fries, grilled vegetables.
Adding a little water becomes a wonderful sauce and can transform the sauces of any cooked food. It is suggested to be used the in tomato braised chicken to give more aromas to the sauce.
TOMATO CHATNEY WITH SMOKED PAPRIKA - SPICY
This wonderful chutney is in perfect balance of sweets and
spicy with the aroma of smoked paprika.
You will want to eat it directly from the jar.
It is incredibly versatile and definitely not just for cheese and wine. Try it with your lunch or spread it on a cheese sandwich, using it as a dip with chips or for healthier snacks like carrots and cucumber, as a sauce in pizza, eggs, or serve with meat and potatoes for a quick dinner.
APPLE CHUTNEY WITH APPLE CIDER AND SPICES
Exotic aroma and taste! It includes a combination of fresh apples, onion, ginger, apple cider vinegar, raisin, brown sugar and spices, giving it a feeling of spicy and sweet taste.
Apple Chatney is the perfect complement to grilled chicken or pork! Ideal for cheese platters, white meats, brisket, poultry, game, octopus.
SWEET AND SOUR CHUTNEY WITH FLORINA PEPPERS
A sweet and sour Chatney with fresh peppers, accompaniment for roasted white and dark meat, can also be used as a dip for vegetables, cheese and breadsticks, can be used in sandwiches, as an appetizer or as a meal closure, in salad dressings – together with yoghurt, olive oil, vinegar, salt, over cabbage, chinese cabbage or iceberg salads.
If you dilute it with some water, it can accompany spring rolls and can make perfect glaze on roasted meat.